Once you've selected the best type of wheelchair for your loved one, it's time to think about price. On Google shopping, the cost of a wheelchair ranges anywhere from $80 to $5,000. This range in cost has to do with the variety of wheelchairs available for purchase- manual wheelchairs, powered wheelchairs, and scooters. The more customized the chair becomes due to the particular disability, the more expensive it will be. However, in some cases insurance may cover the cost of the wheelchair.
NEW – Exclusive Offers from Scooters 'N Chairs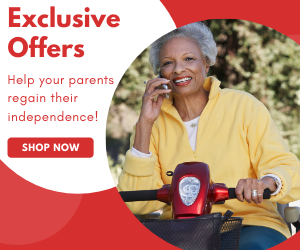 Scooters 'N Chairs bring a new level of compassion and customer service to people seeking mobility solutions for themselves or their loved ones. Their online store is stocked with the highest-rated mobility scooters, wheelchairs, & specialty aids on the market. Scooters 'N Chairs offer DISCOUNTS on many products and offer FREE, LIVE consultations via phone, chat, and email where they carefully and help find the ideal solution. Learn More
Options for Assistance with Wheelchair Costs
Many insurance companies, including Medicare Part B (Medical Insurance), will cover power-operated vehicles (scooters) and wheelchairs as durable medical equipment (DME) that the doctor prescribes for use in your home. Medicare pays to rent the chair for up to 13 months. For Medicare to pay for the equipment, you have to get it from a supplier that participates in Medicare. This does not typically include purchasing a wheelchair without a doctor's direct recommendation.
Medicaid may also be an option depending on the type of equipment and purpose. It does cover DME that is provided as a part of Medicare-covered home health care. Also, if you are a Veteran, you may be able to obtain a wheelchair through the Veteran's Administration.
You may also be able to use private insurance to cover your wheelchair. Carefully review your insurance policy and discuss with your provider to determine how that will work.
In addition to insurance, you could consider financing (if needed) through a bank or credit financer. Be careful which option you choose to keep any potential debts to a minimum.
Remember to check with your insurance company before purchasing a wheelchair. Depending on the cost of the chair, it may be more advantageous to pay out-of-pocket. Remember to review the chair in detail and don't make your decision only on price. If price is a concern, explore all of the options outlined above before making your decision.
Support Caring Village
If you have received value from one of our numerous articles, checklists, preparation guides or our highly-rated caregiving app please consider making a contribution to keep our services free. More families are using Caring Village than ever to care for their loved ones. Unlike most organizations, we strive to keep these services free for all as we understand first-hand how difficult caregiving can be.
Caring Village's long term sustainability relies on the support we receive directly from our readers and app users and for this we thank you. We have a vision to bring even more services and features to the families that need it most. In light of this, we appreciate your consideration to make a one-time or recurring contribution. For as little as $1, you can support Caring Village - and it takes less than a minute to do so. Thank you!
-- Make a One Time Contribution