During the month of December, we're giving you 25 Days of Caregiver Gift ideas. Whether buying for yourself, or giving to the Caregiver in your life, we've compiled a list of all kinds of fantastic gift ideas that caregivers need and will love.
NEW – Hero Medication Dispenser, Manager, and Pill Organizer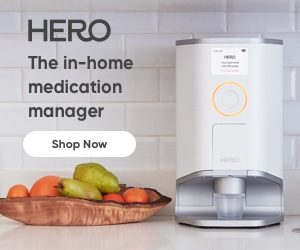 Hero sorts and dispenses doses at the push of a button with audible and visual reminders to help keep your loved on on track, and an optional PIN password that keeps medications safe until it's time to take them. The app reminds you or your caregiver if you need a helping hand. You will also get an alert if you're low on pills. The optional Hero Fill service delivers medication directly to your door to help keep you from running out of prescriptions, over-the-counter medications and supplements and includes free delivery. Your Hero membership gives you peace of mind with an automatic pill dispenser that makes it simple and easy for your loved ones to take the right medication at the right time, every time. Free Shipping. Free Returns. 30-day Free Trial.
The Touch 'N Talk Medical Alert System from Assistive Technology Services: This long range Emergency Alert Voice Communicator Pendant Phone is the first product ever to allow instant two-way speaker phone communication through a mini wearable pendant to family, friends, or neighbors, at anytime from anywhere in or around the home or yard. If the programmed contacts are unreachable at the moment the system can optionally default to contact a 911 emergency operator. The Touch 'N Talk is portable, water resistant, and has no monthly fees.
Passages in Caregiving: Turning Chaos into Confidence by Gail Sheehy: Gail Sheehy, author of the groundbreaking Passages—which was a New York Times bestseller for more than three years—now brings us Passages in Caregiving. In this essential guide, the acclaimed expert on the now aging Baby Boomer generation outlines nine crucial steps for effective, successful family caregiving, turning chaos into confidence during this most crucial of life stages.
The PocketFinder GPS Senior Tracker: PocketFinder GPS Senior Tracker helps families track elderly loved ones or just keep up with remote family members who simply need monitoring. PocketFinder is especially useful for monitoring seniors who take public transit, community shuttles, ride a motorized scooter, or rely on friends and family for transportation. Being able to see their location and track where they are going at the push of a button provides caregivers and family members great peace of mind.
A Grandbox Subscription: Looking for a unique and personalized gift to send to your aging loved one? Why not get them a monthly subscription box curated specifically for those over 65+? Each month your loved one will receive a box of fun and surprising things that are relevant to them and will let them know you care and are thinking of them each month!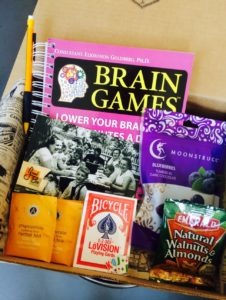 Amazon's Kindle Fire HD 8: As the blog Make Use Of puts it, "Not every tablet will do for a crowd as discerning as senior citizens. They want a product that just works, and works well, but also provides access to books and videos as well as communication with family." The Kindle Fire HD 8 is just that; a great tablet that is wonderfully suited to the needs of aging adults. Giving your loved one a tablet will help them engage with their family members of all ages no matter where they live and make them feel more connected with others.
A Stairlift: If you have an aging loved one with mobility issues, then you should consider installing a stair lift either in their home or your home (if they currently reside with you). Stair lifts (also known as chair lifts) allow users to sit comfortably in a seat that takes them up the steps using the stairs' railing as a track. To learn more, check out our blog The Top Stair Lift Companies.
DMI Deluxe Reach Assist Dressing Aid Kit: A common challenge many aging adults face is the act of getting dressed and undressed by themselves. This dressing aid kit makes dressing easier for those who have limited mobility, arthritis, trouble bending, use of only one hand, or are recovering from an injury or an operation.

Stander EZ Adjust & Pivoting Adult Home Bed Rail: The EZ Adjust Bed Rail is one of Stander's most popular bed rails. This is the only bed rail on the market that extends in length after installation for Full-Fall Protection. It can be used as a half-bed rail to get in-and out of bed – and extends to a full-size bed rail at night for full fall protection. It easily adjusts from 26" – 42" inches with the push of a button – and folds down and out of the way when not in use. It also comes with a convenient organizer pouch to keep handy items close by.


The GMS 28 Day Automatic Pill Dispenser: Pill dispensers are portable devices that allow you to organize your medication by day/time. These devices provide safety and reassurance by dispensing the correct pills on a set day/time via an alarm/reminder mechanism.The GMS 28 Day Automatic Pill dispenser has six alarms and dosage rings, can hold up to 18 aspirin-sized pills in each compartment, and comes with step-by-step setup instructions.
A Subscription to a Meal Delivery Service: Using a meal delivery service can be fun, fast, and easy, and provide independence and autonomy for older adults aging in place either at their home or in yours. Find some of our favorite Meal Delivery Services here.
Omron 5 Series Upper Arm Blood Pressure Monitor: Blood pressure monitors allow you to monitor your blood pressure anytime, anywhere. Omron is the number one doctor and pharmacist recommended brand, as well as the number one selling manufacturer of blood pressure monitors for 40 years.
Stander Security Pole and Curve Grab Bar: The Security Pole makes it easy to stand from a couch, bed, or toilet. Its tension mounted, so it can be placed anywhere in the home without any screws or bolts. It has a multi-position safety support handle and is both adjustable and portable.

Meditation Apps: Meditation is a great way for Caregivers to reduce stress, stay focused, and keep themselves mentally sharp. For those who are interested in getting started with meditation, there are many apps that can make it easier. Buying a caregiving subscription to any of these five meditation apps would be a great gift.
Art Naturals Top 8 Essential Oils: Essential oils are considered to be a natural method of improving overall health, treating common ailments, and providing relaxation and calmness. For this reason, they can be extremely beneficial for BOTH caregivers and their aging loved ones. This kit contains eight of the most popular oils including peppermint, tea tree, rosemary, orange, lemongrass, lavender, eucalyptus, and frankincense. Essential oils can be applied directly on the body or diffused through a diffuser.
A Subscription to a Brain Training App: Did you know that it's possible to improve your brain health? Using a brain training app is a great way to challenge your brain and help keep yourself or an aging loved one mentally sharp. Check out our three favorites in What Are the Best Brain Training Apps?
Pill Timer: Timer medicine caps are digital timers with a count-up feature, which works like a stopwatch, automatically keeping track of how much time has passed since the medication was last taken. This will directly help with medication management since a user's first question is often, "when did I last take this medicine?" This cap also prevents a user from overtaking a medication and has up to 24 auto-repeating daily alarms.
Yoga for Beginners DVD: Caregiving is tough and caregivers often feel stressed and overwhelmed. This where Yoga can help. Yoga is about harmonizing your body through the connection of breathing, posing, and meditation.Practicing yoga regularly can help Caregivers feel calm, relaxed, and re-energized. This DVD is a great way to get started with the practice.
Eating and Drinking Aids: For those with arthritis, mobility issues, or other chronic or cognitive conditions, it can be extremely difficult to just pick up a cup of coffee or use a spoon to eat your favorite soup. However, there are many modified utensils and other aids available to help make eating and drinking easier for aging adults. These tools can be very helpful for the caregiver as well. Here is a list of all kind of tools that make eating and drinking easier.
Able Life Auto Assist Grab Bar: The Auto Assist provides stable assistance to both enter and exit any vehicle. and works on all vehicle makes and models. This grab bar slides into the door striker and sits parallel to the car for optimal leverage and comfort.
A Massage: Massage therapy has some essential benefits, including reducing pain, stress, and headaches and helping to treat cancer and mental health conditions. That is why spa gift cards make great gifts for caregivers.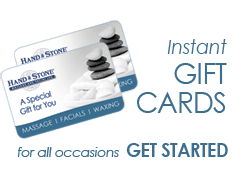 MedCenter Talking Alarm Clock: This alarm clock has alarm settings for morning, lunch, dinner, and bedtime to remind the user to take their pills. In addition, it has a large display and loud and extra loud sound settings to ensure the alarm is heard. Tools such as this can make medication management much easier for a caregiver and their aging loved one.
Flowers: Who doesn't love receiving flowers? Sending a caregiver flowers can brighten their day and let them know that someone is thinking of them and appreciates what they do.
Offer to Help!: A fantastic gift for a family caregiver is to lessen his or her burden. Just the offer of help (even if they don't take it) can mean a lot. And try to be specific. Offer to pick up groceries, run errands, or simply spend time with the person they care for so the caregiver can take a break.
A free subscription to the Caring Village Mobile App and Dashboard: The Caring Village is completely FREE to use for individuals and organizations. Caring Village helps caregivers become more organized, feel less stressed, and engage other to help with any tasks or activities that need to get done. Track wellness updates, create a centralized calendar, manage and assign to-do's, create daily care plans, and send messages to individuals or village-wide, all in the palm of your hand.
Sign up here, or download the app in the App Store or Google Play.