Does your aging loved one struggle with finding fashionable, affordable and easy-to-get on clothing? This is a common problem with a solution growing in popularity – adaptive clothing. Adaptive clothing is designed specifically to help those with physical and mental disabilities have independent and comfortable lives. The more than 14 million Americans that have difficulty with activities of daily living can greatly benefit from adaptive clothing. Review the what, who, and how about adaptive clothing below.
What is Adaptive Clothing?
Adaptive clothing is designed with the dressing needs of the elderly and disabled in mind. It's also important to mention that there are styles and designs unique to each of the challenges someone may face. Those that will directly benefit from adaptive clothing are individuals that have difficulty dressing on their own and with sensory issues.
Sensory and physical limitations are given relief with various adaptive clothing features like Velcro closures and magnetic buttons, using flat seams and replacing standard tags with tagless options to allow more comfort on the skin. Ultimately, adaptive clothing should benefit your aging loved one by offering clothing that increases the quality of life.
Who Benefits from Adaptive Clothing?
Anyone experiencing mobility limitations due to aging, medical treatments, and sensory challenges can benefit from adaptive clothing. The process for everyone to get dressed includes:
Identifying the best clothes to wear for the activities you have planned for the day.
Selecting the individual items of clothing required.
Putting on each piece of clothing.
Taking off each article of clothing.
These may seem like simple steps but if you have a physical disability or sensory limitations (such as visual impairment) that is not the case. Consider someone with arthritis having trouble buttoning a shirt/blouse or someone with muscular dystrophy pulling clothes up or down. These conditions create daily challenges that are addressed with adaptive clothing.
Common physical and mental disorders and diseases relieved by adaptive clothing include: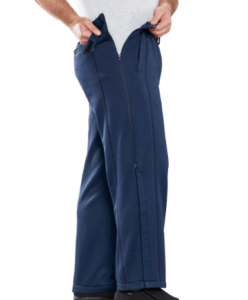 Cerebral Palsy
Multiple Sclerosis
Alzheimer's Disease
Parkinson's Disease
Stroke
Spinal Cord Injury
Brain Injury
Muscular Dystrophy
How does Adaptive Clothing work?
Small buttons, zippers, laces and the type of fabric can create challenges for those with any of the conditions listed above. To address each one, adaptive clothing features typically include the following accommodations: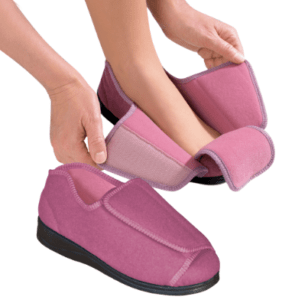 Velcro-type closures instead of buttons
Open-back blouses, shirts, and dresses with Velcro-type closures that still retain the traditional button styling on the front
Lap-over back-style garments with snaps for the individual who cannot raise their arms
Zippers with easy-to-grasp pull tabs
Pants with side zippers
Seatless pants to help with incontinence
Shoes with Velcro-type closures instead of shoelaces
Slippers and socks that adjust in width to accommodate swollen feet and ankles
Now that you understand adaptive clothing better check out our Top 5 Adaptive Clothing Companies to research options in more detail.
Support Caring Village
If you have received value from one of our numerous articles, checklists, preparation guides or our highly-rated caregiving app please consider making a contribution to keep our services free. More families are using Caring Village than ever to care for their loved ones. Unlike most organizations, we strive to keep these services free for all as we understand first-hand how difficult caregiving can be.
Caring Village's long term sustainability relies on the support we receive directly from our readers and app users and for this we thank you. We have a vision to bring even more services and features to the families that need it most. In light of this, we appreciate your consideration to make a one-time or recurring contribution. For as little as $1, you can support Caring Village - and it takes less than a minute to do so. Thank you!
-- Make a One Time Contribution