As you age, you may find that you need help with dressing, bathing, or other activities of daily living (ADLs) due to a decrease in mobility or a physical or mental disability. Such needs are often not covered by traditional health insurance (including Medicare). This is where long-term care can help. Long-term care insurance provides benefits for those with functional or cognitive impairment. If you aren't sure check out our blog Do You Need Long-Term Care Insurance?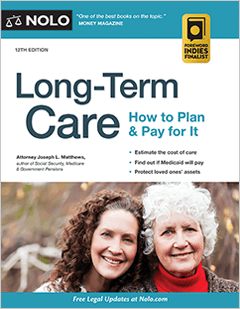 If you want to better educate yourself on Long-Term Care options prior to speaking with one of the following groups, we highly recommend the book by Joseph Matthews: Long-Term Care: How to Plan & Pay for It. It delves into this complicated topic in an easy-to-understand manner. It is currently in its 12th edition and is a good value to help you understand your options. If you have decided that long-term care insurance is right for you then use the list of the top 10 companies below, provided by ConsumersAdvocate.org, to get started.
The Top Ten Long-Term Care Insurance Companies
Agent Review
Agent Review gives insurance shoppers access to fully vetted and professional agents who are experts in the long-term care insurance marketplace. They will guide you through the ins and outs of the process and make sure you get the policy that best suits your situation and your family's future.
LTC Financial Solutions
LTC Financial Solutions, LLC is composed of long-term care specialists with over 65 years of experience. LTC Financial Solutions, LLC specialists make searching for long-term care insurance easier by assisting clients to find long-term care solutions that are tailored to their needs. It educates clients about the benefits of long-term care insurance and helps them find a plan that matches their budget.
ACSIA Partners
ACSIA Partners LLC is a company that offers a variety of long-term care and related insurance products across the country. At ACSIA Partners, your quotes are delivered by one single specialist, who helps you choose the best features and discounts, without over-buying coverage. Avoid mistakes when planning your long-term care policy with one-on-one guidance from ACSIA Partners.
Mutual of Omaha
Mutual of Omaha offers a large number of policies and plans that are designed to meet individual needs and budgets. These come with different features that ensure your long-term care plan is able to handle future needs. You have the option to choose how to receive policy benefits.
New York Life
New York Life is a leading financial service provider backed by its strong capital position. It is one of the largest mutual life insurance companies in the country today and is rated A++ by AM Best. With its strong financial ratings, the company is positioned to be a reliable company for its long-term care customers now and in the future.
MassMutual
MassMutual is one of the biggest and leading insurance providers in the country today.  The company enjoys high financial scores from some of the most credible financial rating sites that include AM Best, Moody's, and S&P. With good financial standing, the company is poised to provide long-term care insurance services well into the future.
Northwestern Mutual
Northwestern Mutual is a rock-solid provider of long-term care insurance with sound financial backing. The company offers a comprehensive list of plans and benefits that are up to par with the best plans being offered today. Northwestern Mutual offers automatic inflation-protection at 3, 4 and 5%. This means that a similar plan without inflation-protection, which provides $100 daily benefit, could be enhanced to $200 daily benefit with inflation-protection.
Genworth Financial
Genworth Financial offers a range of products and services, including long-term care insurance and mortgage insurance. In 2016, the company suspended sales of annuities and life insurance, putting the existing books of business into runoff. In 2012, Genworth's U.S. companies paid over $3.2 billion in benefits to life insurance, long-term care insurance, and annuity policyholders and beneficiaries. The company provides individual long-term care insurance, group long-term care insurance for employers offering benefits to employees, and caregiver support services.
TransAmerica Long-Term Care
TransAmerica offers a variety of financial services and is considered as one of the top insurance services in the country today. The company aims to make long-term insurance more available by providing a myriad of solutions that includes tax-qualified and inflation-protected plans to make LTC more affordable and effective.
GoldenCare
GoldenCare Long-Term Care Specialists work one-on-one to educate you on all of your coverage options and to help guide you in your LTC planning. All of their products are hand-selected from top-rated carriers in the long-term care insurance industry. GoldenCare specialists have more than 40 years of experience in long-term care insurance.
Additional Information
If you choose to get LTC insurance, you will be reimbursed for common day-to-day activities, but you must first demonstrate you have lost the ability to engage in at least two activities of daily living (ADLs) which are: eating, bathing, dressing, toileting, walking, and continence.
If you've decided to purchase long-term care insurance, make sure to take your time and research each of the companies listed above.