As you age, you may find that you need help with dressing, bathing, or other activities of daily living (ADLs) due to a decrease in mobility or physical or mental disability. Such needs are often not covered by traditional health insurance (including Medicare).
This is where long-term care can help. Long-term care insurance provides benefits for those with functional or cognitive impairment. If you aren't sure check out our blog Do You Need Long-Term Care Insurance?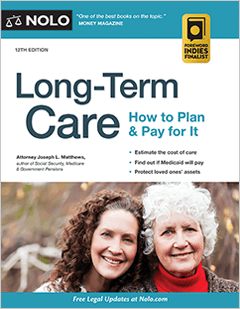 If you want to better educate yourself on Long-Term Care options prior to speaking with one of the following groups, we highly recommend the book by Joseph Matthews: Long-Term Care: How to Plan & Pay for It.
This books delves into this complicated topic in an easy-to-understand manner. It is currently in its 12th edition and is a good value to help you understand your options. You will find topics starting with making the best decision, nursing facilities, hospice care, Medicare, Medicaid and Long-Term Care insurance. The organization of the book allows you time to digest complex topics and have a resource to refer back to as you review the many available companies.
If you have decided that long-term care insurance is right for you then use the list of the top 10 companies below, provided by ConsumersAdvocate.org, to get started. Each company is listed with a brief description of the organization, offerings and other important details. You will find a link that offers more detail about each company for you to explore further.
The Top Ten Long-Term Care Insurance Companies
As you explore long term care coverage for your aging loved one consider the companies listed below. If you are searching for support for your home health aide or nursing home care, these companies may have what you need.
As you rank each company, consider the cost, rate increases, monthly benefits and what waiting period you are required to follow prior to the insurance being effective (i.e. 90 days or more).
Review each company's description, compare prices and consider your own resources when it comes to paying for long term care insurance to make your decision.
GoldenCare
GoldenCare Long-Term Care Specialists work one-on-one to educate you on all of your coverage options and to help guide you in your LTC planning. All of their products are hand-selected from top-rated carriers in the long-term care insurance industry.
GoldenCare specialists have more than 40 years' experience in long-term care insurance. The experience of the more than 10,000 GoldenCare independent agents service various areas including Long-Term Care, Medicare Advantage and Medicare Supplement. It is a priority of GoldenCare to help you make the best decision for you and your aging loved ones by providing critical information before a crisis can occur.
The information, as well as finding the best insurance options, is only possible because GoldenCare represents numerous carriers in the Long-Term Care industry. The variety of carriers and expertise of GoldenCare will meet your needs from in-home care to a facility if needed. Check out their website and read reviews in more detail to find out if it is the right fit for you.
LTC Resource Centers
LTC Resource Centers is an independent Managing General Agency that has been providing solutions to chronic health care needs (dependency) for over four decades. Their product portfolio includes; long term care insurance, short-term care, linked or combo products, Medicare supplements, life insurance, critical illness, and annuities.
Expertise is a priority for LTC Resource centers and the leadership holds the long-term credentials: Certified in Long-Term Care and the LTCP, Long-Term Care Professional. The centers extend beyond just LTC to provide tools for caregivers, how to manage Medicare and additional different methods to utilize for LTC. In addition, you can have direct contact with a specialist to assist you during your journey.
LTC Financial Solutions
LTC Financial Solutions, LLC is composed of long-term care specialists with over 65 years of experience. LTC Financial Solutions, LLC specialists make searching for long-term care insurance easier by assisting clients to find long-term care solutions that are tailored to their needs.
LTC Financial Solutions educates clients about the benefits of long-term care insurance and helps them find a plan that matches their budget. The covered care offered is available for nursing homes, assisted living facilities, and home or adult daycare. On the main website, you will be able to find a search function to look for your perfect plan and the coverage you need.
CLTC Insurance Services
CLTC Insurance Services provides long-term care solutions all over the nation by shopping all insurance companies for the best options and discounts available for your unique situation. CLTC emphasizes that they work for you and not the insurance company.
CLTC is headquartered in Burlingame, CA. As an independent specialist broker, the company also offers a Free Planning Guide, a "no obligation" consultation, and multiple quotes presented by one expert agent dedicated to helping you make the right choice to protect, you, your family and assets.
To connect with CLTC be prepared with your basic information to receive the complimentary consultation and quotes.
Mutual of Omaha
Mutual of Omaha offers a large number of policies and plans that are designed to meet individual needs and budgets. These come with different features that ensure your long-term care plan is able to handle future needs. You have the option to choose how to receive policy benefits.
The benefits you may receive can be a cash benefit (an alternative to reimbursement), care coordination (to assess, develop and arrange for services), waiver of premium (not having to pay the premium on your policy), and alternate care (adjustments in standards of practice).
Whether through an easy-to-use online search or contact an agent directly, Mutual of Omaha is here to help make this less difficult.
New York Life
New York Life is a leading financial service provider backed by its strong capital position. It is one of the largest mutual life insurance companies in the country today and is rated A++ by AM Best.
With its strong financial ratings, the company is positioned to be a reliable company for its long-term care customers now and in the future. To do so, New York Life is focused on helping to cover the cost of taking care of yourself when you are not able to anymore.
Whether through traditional long-term care insurance or a combination with life insurance, New York Life has the expertise and strong planning strategy to support your individualized needs.
MassMutual
MassMutual is one of the biggest and leading insurance providers in the country today. The company enjoys high financial scores from some of the most credible financial rating sites that include AM Best, Moody's, and S&P.
With good financial standing, the company is poised to provide long-term care insurance services well into the future. To do so, MassMutual launched SignatureCare 600, the newest LTCi product. The new product offers a 'live at home feature, enhanced elimination period, as well as distinct pricing and a new submission procedure. This is in addition to their CareChoice One policy that provides a death benefit, cash value accumulation, potential dividends and reimbursement for long-term care costs.
Northwestern Mutual
Northwestern Mutual is a rock-solid provider of long-term care insurance with sound financial backing. The company offers a comprehensive list of plans and benefits that are up to par with the best plans being offered today.
Northwestern Mutual offers automatic inflation-protection at 3, 4 and 5%. This means that a similar plan without inflation-protection, which provides $100 daily benefit, could be enhanced to $200 daily benefit with inflation-protection. This means that a similar plan without inflation-protection, which provides $100 daily benefit, could be enhanced to $200 daily benefit with inflation-protection.
The LTCi policies are 'guaranteed renewable' for life as long as you continue to pay your premium. Factors that will impact the premium rates include the state you live in and you continuously pay your premium.
Genworth Financial
Genworth Financial offers a range of products and services, including long-term care insurance and mortgage insurance.
In 2016, the company suspended sales of annuities and life insurance, putting the existing books of business into runoff. In 2012, Genworth's U.S. companies paid over $3.2 billion in benefits to life insurance, long-term care insurance, and annuity policyholders and beneficiaries.
The company provides individual long-term care insurance, group long-term care insurance for employers offering benefits to employees, and caregiver support services.
TransAmerica Long-Term Care
TransAmerica offers a variety of financial services and is considered as one of the top insurance services in the country today. The company aims to make long-term insurance more available by providing a myriad of solutions that includes tax-qualified and inflation-protected plans to make LTC more affordable and effective.
TransAmerica has nearly 300,000 policies in place and pays more than $1.7 million each day in claims. Rated superior, TransAmerica stands out as a leader in the LTCi industry and offers additional resources, as well as caregiver guides as a source of education and support.
What Should You Consider When Planning for Your Long-Term Care Insurance Needs?
You need to consider many factors when planning for your LTC needs. Have you thought of the comparison to other monthly costs for caregiving support? Keep the monthly median costs noted below in mind as you plan for your long-term care needs.


* Source: Genworth 2019 Survey
Where You Live Matters – Depending on where you live the cost of long-term care can vary quite a bit. Studies show that on average the cost of long-term care insurance tends to be lower in the southeast and south-central states and higher in the New England states, as well as the northwestern and midwestern parts of the U.S.
Your Age and Physical Health Count – The older you are the more you will pay in premiums and the greater the likelihood is that you will develop a medical condition that makes it more difficult to get coverage. Shopping early is recommended!
Financial Strength Ratings Are Important – An insurer's financial strength rating is a forward-looking opinion about an insurance organization's ability to meets its ongoing insurance policy and contract obligations. Five independent agencies rate the financial strength of insurance agencies, each with their own rating scale and standards.
The Type of Policy Your Choose Will Impact Cost – Both traditional long-term care policies and hybrid policies that combine long-term care insurance with life insurance are available. Keep in mind, however, that hybrid policies typically have a higher upfront cost in the form of either a large one-time payment or a shorter set payment term.
Additional Information
With LTC insurance you will be reimbursed for common activities. Before you receive your reimbursement you will have to show you lost the ability to do daily activities. Those daily activities include: eating, bathing, dressing, toileting, walking, and continence.
Check out the American Association for Long-Term Care Insurance for additional details and options available. The AALTCI provides a ton of information on long-term care insurance which may help answer some more detailed questions.
If you've decided to purchase long-term care insurance, make sure to take your time and research each of the companies listed above.