There are over 45 million unpaid family caregivers coordinating care for their aging loved ones, while still juggling their own work and family responsibilities. These caregivers are often stretched too thin given the stress and pressures of everyday life. We have put together this guide to highlight cost-effective products that can help make life a little easier for them and their loved ones.
NEW – Hero Medication Dispenser, Manager, and Pill Organizer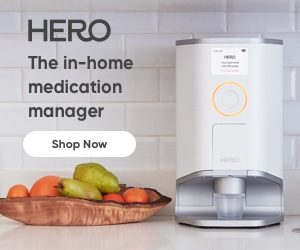 Hero sorts and dispenses doses at the push of a button with audible and visual reminders to help keep your loved on on track, and an optional PIN password that keeps medications safe until it's time to take them. The app reminds you or your caregiver if you need a helping hand. You will also get an alert if you're low on pills. The optional Hero Fill service delivers medication directly to your door to help keep you from running out of prescriptions, over-the-counter medications and supplements and includes free delivery. Your Hero membership gives you peace of mind with an automatic pill dispenser that makes it simple and easy for your loved ones to take the right medication at the right time, every time. Free Shipping. Free Returns. 30-day Free Trial.
Gifts to Help Keep Loved Ones Safe
AngelSense Elderly GPS Tracker and App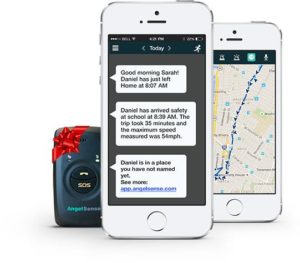 The AngelSense GPS Tracker is a unique offering that combines a GPS tracker and mobile app with a monthly service plan that includes unlimited notifications, full day location updates, late departure warnings, email alerts, and real-time technical support. This solution is perfect for individuals with Dementia, Alzheimer's Disease and other memory problems as it helps prevent wandering and mistreatment while promoting independence and reducing family caregiver stress and anxiety. The AngelCall feature also allows families to talk to their elderly loved one directly without the need for them to "pick-up" the device. AngelSense offers three pricing plans and provides free onboarding support by phone.
Click Here for more information.
Door Alarm Kit
These easy-to-use door alarms help prevent your loved one from wandering and give you peace of mind especially at night.
Alarm triggered after entry opening
Peel and stick installation
Loud 100 dB alarm
Superior adhesive backing for optimum sticking power
Prevent wandering in dementia and Alzheimer's sufferers
Gives family caregivers peace of mind
Cost: $30 – $40 (12 Pack)
Click Here for more information.
EZ Adjust Bed Rail
The only bed rail on the market that extends in length after installation for Full-Fall Protection. Adjustable length allows for use as both a bed rail to prevent falling out of bed or as a hand rail to assist in getting out of bed.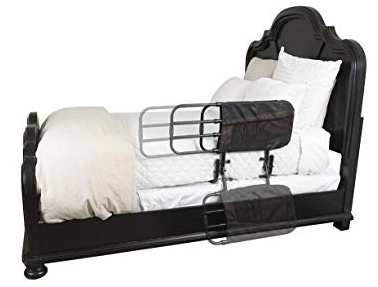 Bed rail easily adjusts from 26″- 34″- 42″ after it has been placed on the bed
Rail pivots down 180° to the side of the bed when not in use.
4-Pocket Organizer Pouch
Weight Capacity: 300 lb
Attaches to most home, hospital, and adjustable beds with included safety strap
Cost: $99 – $125
Click Here for more information.
Gifts to Help Make Dressing Easier
Mobility Tool Kit for Moving and Dressing
This set of tools is ideal for someone who has undergone hip or knee replacement surgery and cannot bend, twist or lift.
EXTEND YOUR REACH: Features 32″ Long reacher grabber built up with lightweight aluminum with ergonomic handle for comfortable grip
Magnetic tip helps pick up small objects and Fitted with a post to assist with dressing. Yellow clip fastens reachers to canes, walkers, wheelchairs and hospital bed rails to keep them nearby
DRESS INDEPENDENTLY: 28″ Dressing Stick with a large vinyl coated "S" Hook to assist with putting on shirts, pulling up pants, skirts, or helping put on shoes or removing socks. Vinyl coated "C" Hook on the opposite end for pulling zippers and shoelace loops. The Sock Aid allows to easily put on socks or stocking without bend over. A 24″ long shoe horn is included to easily put on any type of shoe while standing.
Cost: $30 – $40
Click Here for more information.
Long Handled Comb and Brush Set
Offers greater independence for those with limited dexterity or arthritis.
Unique long-handled comb and brush set offers greater independence for those with limited dexterity or arthritis
Made of plastic with easy-grip handles.
Extra-long, ergonomic curved handle, makes it easy to style hair from front to back with minimal shoulder and upper arm movement.
Brush measures about 13¾" inches in length. Wide tooth comb measures about 14¾ inches in length.
Cost: $25 – $30
Click Here for more information.
Button Hook with Zipper Pull
An ideal daily living tool for anyone suffering from limited dexterity caused by arthritis.
Button Hook with Zipper Pull is an ideal daily living tool for anyone with limited dexterity caused by arthritis.
COMFORT GRIP: Wide and Ribbed handle prevents slipping and provides comfort.
SNAG FREE WIRE LOOP: High quality steel wire is thin enough for easy navigating through the button holes without snagging. The loop locks onto buttons, making buttoning a pain-free process.
ZIPPER PULLER: Made of thin but heavy duty steel. Makes zipping clothing an easy process. The tip of the hook is smoothed out to prevent damaging clothes.
Limited Lifetime Warranty and 100% Satisfaction Guarantee.
Cost: $10 – $12
Click Here for more information.
Gifts to Help Keep Your Loved One Comfortable
Thermostat Cover with Locking Feature
For caregivers with a loved one that likes to constantly change the temperature. Now you can rest easy knowing that temperatures will always remain in the safe-zone all year long.
Includes universal key and heavy duty lock. Key lock with inner shelf to prevent tampering.
Product size: WxHxD: 6.06 x 5.06 x 2.63 inches
Protects unwanted changes to AC/Heating preferred settings
Installation is nearly effortless
The Guard will fit on all medium-sized 6W x 5H x 1.75D inches or smaller
Clear plastic cover that resists yellowin
Cost: $15 – $20
Click Here for more information.
Inflatable Bed Topper
The Med Aire Alternating Pressure Pump and Pad System with Low Air Loss by Drive Medical provide alternating pressure and is designed to be used in the prevention, treatment, and management of Pressure Ulcers/Bed Sores.
130 individual bubble cells alternately inflate and deflate in air flow and pressure over a 5 minute cycle time
Pad Dimensions: 78″(L) x 36″(W) x 2.5″(H); Weight Capacity: 300 lbs
Pad is made of long lasting durable heavy gauge premium vinyl
Cost: $50 – $60
Click Here for more information. 
Tranquility Premium OverNight™ Incontinence Underwear
Tranquility's Premium OverNight™ Disposable Absorbent Underwear is the top-rated overnight underwear for adults. It offers superior protection to ensure a restful sleep. Premium OverNight™ Disposable Absorbent Underwear is available in a range of sizes from XS to 2XL.
The absorbent Peach Mat Core provides maximum protection by locking away liquid resulting in dryness, urine pH neutralization, and odor reduction while protecting delicate and sensitive skin from the damaging effects of moisture.
The superior performance of the Peach Mat Core is why Tranquility's Premium OverNight™ Disposable Absorbent Underwear is considered a top-rated overnight adult diaper among caregivers and medical professionals.
Cost: $70 – $75
Click Here for more information.
Support Caring Village
If you have received value from one of our numerous articles, checklists, preparation guides or our highly-rated caregiving app please consider making a contribution to keep our services free. More families are using Caring Village than ever to care for their loved ones. Unlike most organizations, we strive to keep these services free for all as we understand first-hand how difficult caregiving can be.
Caring Village's long term sustainability relies on the support we receive directly from our readers and app users and for this we thank you. We have a vision to bring even more services and features to the families that need it most. In light of this, we appreciate your consideration to make a one-time or recurring contribution. For as little as $1, you can support Caring Village - and it takes less than a minute to do so. Thank you!
-- Make a One Time Contribution