The Best Stair Lift Companies
If your parent has mobility issues and requires the assistance of a walking cane, walker, or wheelchair, then you may also want to consider installing a stair lift in either your home (if they currently reside with you) or in their home. Stair lifts (also known as chair lifts) allow users to sit comfortably in a seat that takes them up the steps using the stairs' railing as a track. According to Consumers Advocate, the top ten stair lift companies are Harmar, AmeriGlide, Improvement Center, Handicare, Stannah, 101 Mobility, Ascent, Acorn, Bruno, and Lifeway Mobility. Learn more about each of these companies and how stair lifts work below.
What are Stairlifts?
Stairlifts, as they sound, are a convenient way for those with mobility issues to bypass what can be painfully challenging stairways. The stairlift has a track mounted on the wall of the stairway and a motorized chair attached to the track. The chair is a secure seat that will comfortably take you up the flight of stairs. The motorized gear (power-operated) will move the chair at an appropriate speed while the passenger is securely fastened. You will also have the use of a 'call and send' button in the event that someone else needs to use it. The stairlift offers freedom and access to those that otherwise would not venture upstairs or do so at their own risk.
Types of Stair Lifts Available
The three main types of stair lifts available for the home are; straight stair lifts, curved stair lifts, and outdoor stair lifts.
Straight Stair Lifts – Designed for a set of stairs going straight up to a second story or straight down to a basement or lower level. Standardized rails are used and the installation time is usually minimal.
Curved Stair Lifts – Required for applications where there is a curve, bend or landing mid-way up or down the staircase. Installation for curved staircases involves building a custom rail to fit your unique staircase and can take longer to install.
Outdoor Stair Lifts – Typically installed on porches, patios and decks, or to help navigate uneven terrain leading to a pier. Customization may be required depending on whether the stairs are straight or curved. Outdoor stairlifts are engineered to withstand the elements through the use of marine-grade vinyl and weatherproof covers.
Common Stair Lift Features
Many stair lift companies offer the following features as either standard with their models or as an additional add-on or upgrade.
Folding Seat & Footrest – Designed to help minimize the amount of space the stairlift takes up when not in use. Some models offer a power option that automatically folds the footrest when the seat is lifted.
Swiveling Seat – Allows the user to rotate the seat away from the open stairs for a much safer exit from the stair lift.
Adjustable/Customizable Chairs – Additional comfort in the form of generous padding, adjustable seat height and armrest width makes for a much smoother ride.
Seat Belt and Safety Sensors – Automotive-grade seatbelts help keep riders safely on the chair while the stair lift is in motion. And safety sensors can detect objects on the stairs that may obstruct the stair lift's function.
Remote Controls – Can be used to automatically "call or send" the stair lift up and down the stairs allowing multiple users to utilize the stair lift.
What to Consider When Evaluating a Stair Lift Company
Consider the following when evaluating each company and ensuring it is the high-quality product you want:
What is the price range you are willing to spend on the stair lift?
Does the company offer a payment plan?
How many different types of stairlifts does the company manufacture?
Do you need an indoor or outdoor stairlift?
How many years warranty will the company offer?
What are the safety features incorporated into the product?
Is the stairlift self-installed or require professional installation?
How does the stairlift handle a power outage?
Is the stairlift battery-operated or electrical?
Do you want to buy or rent the stairlift?
When you answer the questions above, consider both the present and future needs of your aging loved one. Be intentional with your research and review of each of the companies. Being a knowledgeable consumer will put you in the best position possible.
The Top 10 Stair Lift Companies
The stairlift companies organized below are a starting point for you to review and analyze each one to find the best option for you. The various stairlift manufacturers will provide different types to meet your needs. Not sure where to start?
| | Types of Stairlifts Available | Base Price Range for Straight Stairlifts | Base Price Range for Curved Stairlifts |
| --- | --- | --- | --- |
| Bruno | Straight, Curved & Outdoor | $3,200 to $5,200 | $10,500 |
| Handicare | Straight, Curved & Outdoor | $2,600 to $3,700 | $6,200 to $8,600 |
| Stannah | Straight, Curved & Outdoor | $3,000 to $5,700 | $12,000 to $15,000 |
| Harmar | Straight, Curved & Outdoor | $2,200 to $4,000 | $14,000 |
| AmeriGlide | Straight, Curved & Outdoor | $1,700 to $2,100 | $8,200 |
| 101 Mobility | Straight | $3,400 to $3,500 | Not Available |
| Ascent Stair Lifts | Straight, Curved & Outdoor | $2,200 to $4,000 | $6,2000 to $14,000 |
| Acorn Stair Lifts | Straight, Curved & Outdoor | In-home consultation required for pricing | In-home consultation required for pricing |
| Lifeway Mobility | Straight, Curved & Outdoor | $2,200 to $6,000 | $10,500 |
| Savaria | Straight & Curved | $2,500 to $3,000 | $8,800 |
Bruno
Bruno Independent Living Aids is an industry-leading manufacturer of straight and curved stair lifts. Award-winning Bruno manufactures indoor and outdoor stair lifts in Wisconsin and takes pride in their position as an industry innovation leader. With a strong focus on quality and safety, family-owned Bruno offers a Lifetime Limited Warranty on their indoor straight stair lifts.
In addition to stair lifts, Bruno manufacturer's vertical platform lifts and wheelchair lifts for vehicles. They are also an ISO certified manufacturer that offers independent lifestyle solutions to mobility-challenged individuals and elders.
Bruno provides a range of budget-wise stair lifts that helps seniors and mobility-challenged individuals restore safety and gain peace of mind in their own homes.
Bruno Stairlift Models Available: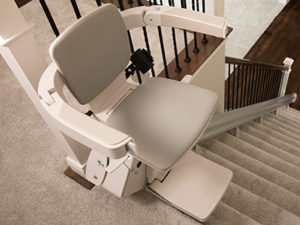 Bruno's most popular straight indoor stairlift, the Elan, is a mix of stylish design, high-quality functionality and ease-of-use-operation. With a narrow vertical rail design, Bruno's Elan stairlift leaves plenty of open space on the steps for family members.
The Elan Stairlift's Features Include:
Lifetime warranty on all major components
Maximum weight capacity of 300 pounds
Smooth, quiet ride
Space-saving design installs close to wall perfect for tight spaces
Offset swivel seat turns and extends away from steps
Ultra compact design with folding arms, footrest and seat
Retractable seat belt and safety sensors to detect obstructions
Vertical rail with covered gear track for a neat, clean appearance
Uses battery power during a power outage
Design Options:
Folding rail (manual and power options available)
Power swivel seat
Power folding footrest
Rail color options (silver or champagne)
Seat color options (tan, brown, charcoal, olive and maroon)
Upholstery options (vinyl or leather)

Handicare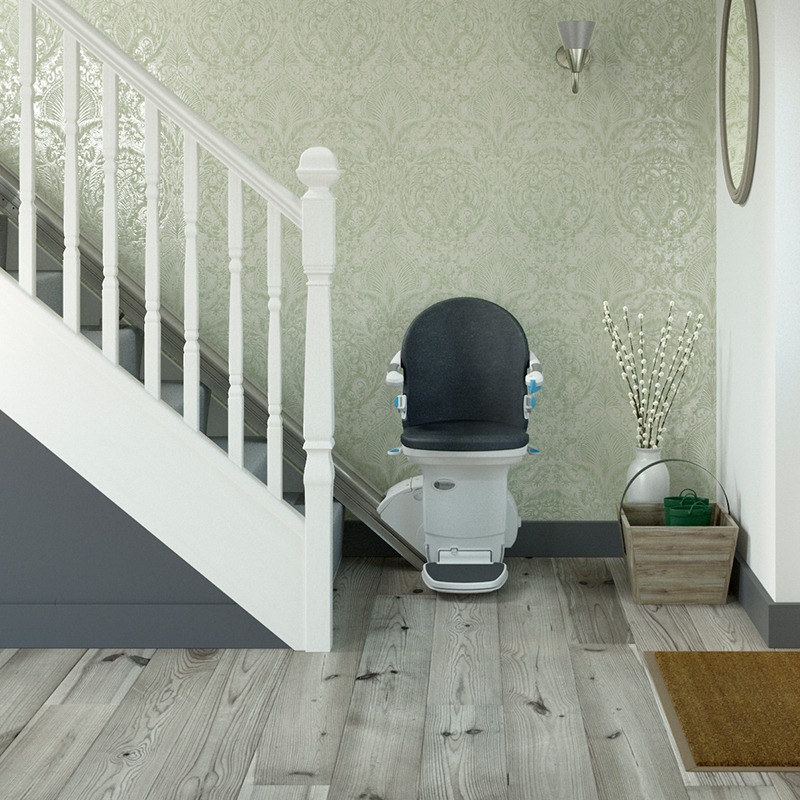 Handicare is committed to making everyday life easier for disabled and elderly people and to empowering them to live an active life – on their terms. At the same time, they want to support those who assist them. This is why they provide well-designed solutions that help increase independence, and are easy and safe to use for both healthcare professionals and family members.
Handicare Stairlift Models Available:
Stannah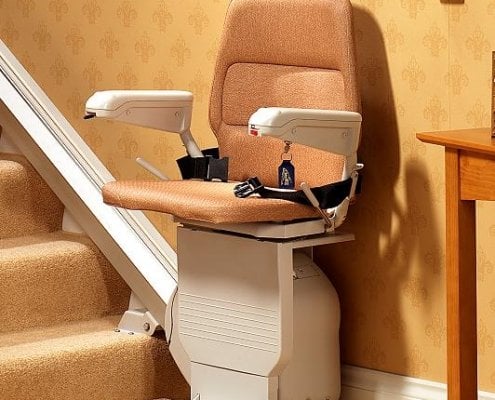 Stannah is recognized around the world as the company that brings freedom, independence, and a strong sense of safety back to anyone who has difficulty overcoming the challenges posed by the stairs in their home. The Stannah stair lift is fully customizable, and the company will do a free assessment with no obligation to purchase. Stannah stair lifts are offered by more than 200 dealers nationwide.
Stannah Stairlift Models Available:
Harmar
Harmar has the largest variety of wheelchair, scooter, and power stair lifts and offers innovative solutions to enhance home accessibility for the mobility-challenged. Harmar provides people with a way to gain more freedom to go where they want, when they want.
Harmar offers ergonomically designed seats and a 2-year warranty on standard lifts. The focus of the company is on two primary areas: lifts for your vehicle and lifts for your home.
Harmar partners with a variety of car manufacturers and offers you suggestions on how to find financial assistance should you need it for your car. For your home, Harmar is determined to create a comfortable living space for your aging loved one.
Harmar Stairlift Models Available:
AmeriGlide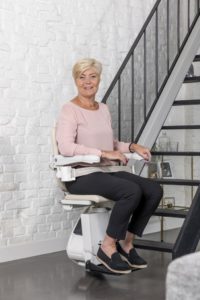 AmeriGlide offers nationwide measuring and installation. In addition, you have the option to do it yourself, which could potentially save hundreds of dollars. AmeriGlide offers a variety of accessibility solutions from bath lifts, elevators, vertical platform lifts to stair lifts. The variety of stairlifts you can find include: straight, curved, indoor, outdoor, heavy duty, certified used and more. You can find several service repair options should you need one. AmeriGlide has an estimated 50,000 units sold and with an average 4-hour homeowner installation.
AmeriGlide Stairlift Models Available:
Improvement Center
Improvement Center helps consumers easily connect with local stair lift providers and installers by simply filling up an online form and submitting their zip code. After submitting the information, consumers are provided with several quotes from different stair lift contractors without an obligation to purchase.
101 Mobility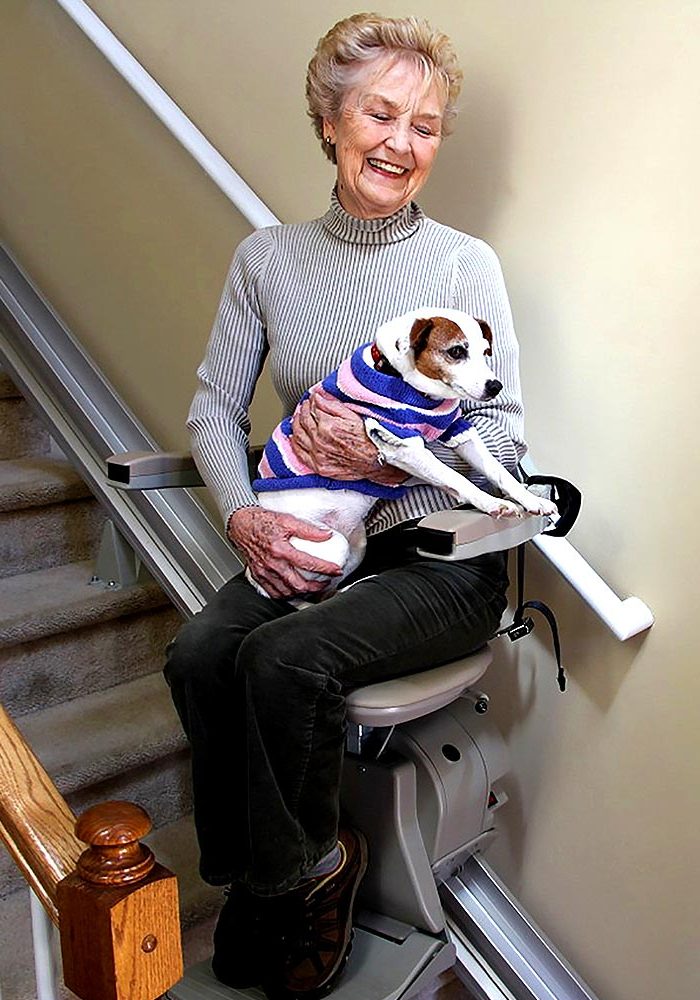 101 Mobility provides a variety of stair lifts and mobility solutions from its personally manufactured equipment and known brands nationwide. The company offers products such as auto lifts, incline platform lifts, vertical platform lifts, stair lifts, scooters, wheelchair ramp maintenance, and limited use elevators.
Ascent Stair Lifts
Ascent Stair Lifts was established in 2008, after many years of experience in the accessibility industry. In the beginning, Ascent had the simple yet ambitious idea of providing the best mobility products and services at affordable prices. The goal of Ascent has always been to help customers feel safe in their homes and regain the confidence and independence that is so deserved by all.
Acorn Stair Lifts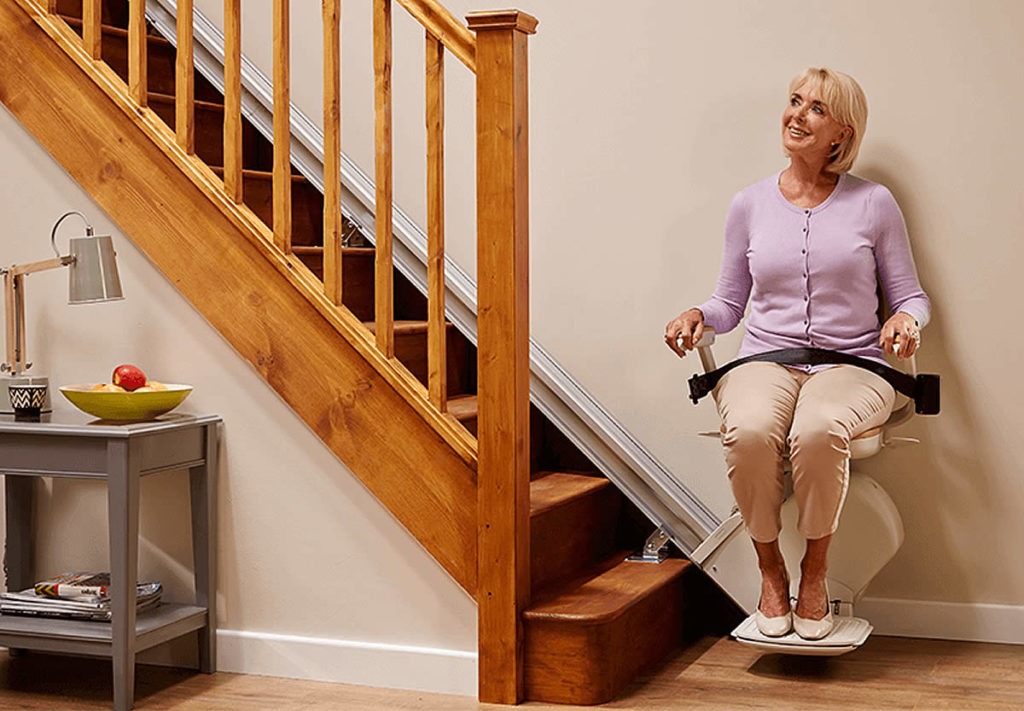 Acorn Stair Lifts is an international, family-owned company that employs thousands worldwide. Their core business is the manufacture, sale, and service of stair lifts. Acorn prides itself with creating the most contemporary design, using the latest innovations, and manufacturing top quality components. Acorn Stair Lifts has pioneered the use of direct current (DC) batteries, the FastTrack system, and Smart-Level technology.
Lifeway Mobility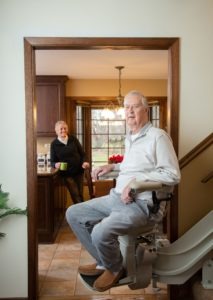 Lifeway Mobility, is a company that helps people with limited mobility regain their independence and stay safe in their homes. They are a Bruno Diamond Stair Lift Dealer with locations and showrooms in Chicagoland, Connecticut, Indianapolis, Massachusetts, & Minneapolis as theye intend to stay local as they grow. Some of the other products offered by Lifeway are ramps, wheelchair lifts, bathroom modifications, and home elevators. Lifeway Mobility provides accessible solutions to those living in CT, IN, IL, MA, MN, NH, RI & WI.
Savaria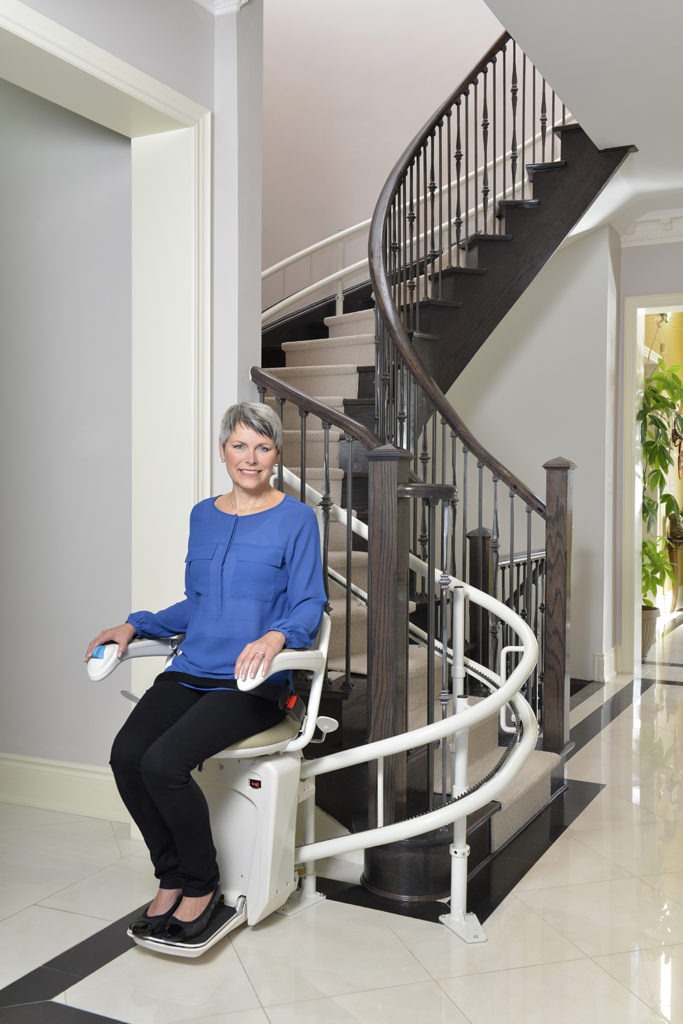 Founded in 1979, Savaria is a Canadian company all about products that help improve mobility. Whether that's for your home, in a vehicle or in public spaces, they design and build products to make life more accessible. With manufacturing facilities in North America, Europe and China, they can more efficiently reach global markets and build to meet the needs of specific customer requirements.
How to Pay for Stairlifts
Keep in mind that stairlift installation can be expensive. However, many companies offer financing. The options to finance will always depend on the cost of the lift, your credit history and if you put any money down upfront. Explore the financing details to ensure you are not being charged a high-interest rate.
You should also explore if your insurance covers any portion of purchase or installation. Insurance options are often limited, but it never hurts to double-check. Medicare does not currently pay for stairlifts but there may be some options through Medicare Advantage plans for reimbursement. If you have Medicaid, you will need to check with your state-specific benefits to determine if you are eligible for any reimbursement.
Veterans are often eligible for some or full payment for stairlifts. It is well worth the time and effort to contact the Department of Veterans Affairs caregiver support line for more details.
Stairlift cost can vary depending on the staircase design, with prices in the $2000 to $4000 range being common for a simple stair lift for straight stairs. For more elaborate stairways and chairs, the price can be as much as $15,000 (or even more, in some cases) including professional installation. In addition, you should also consider what the cost of removal is as well for the long-term viability of your home or should you move.
Key Safety Features for Stair Lifts
You will need to ensure your stairlift has fundamental safety features to keep your aging loved one safe. Some of the core features include: safety belts/harnesses, obstruction detection, and keylocks. The safety of your aging loved one is a top priority and each item below should be tested prior to using it fully.
Safetybelts: You are used to a seatbelt in a car but when using a stair lift they are essential for safety. The safety belt may look more like a harness in some cases.
Keylocks: An essential safety feature is the keylock. This is something that if removed, the stairlift cannot operate. Using this will prevent children or others that shouldn't be occupying the lift from using it.
Obstruction Detection: When a stairlift is in motion it is critical it has obstruction detection to prevent it from running over an object on the track.
How Stairlifts are Powered
A stairlift may fit nicely into your home but the hardware required to function may surprise you. Some of the core components to the functional operation of a stairlift include:
Battery: This is what will keep your stairlift moving. The batteries will be larger and more expensive then what you typically buy for your appliances. You will find them typically at the base of the seat, near the motor. The battery will likely need to be replaced but this will be a few years after purchase.
Battery Charger: The battery replacement as mentioned above is every few years so charging your battery will keep it alive. The charger will typically be found under the track or near the beginning or end of the track. The charger will likely work automatically with no action on your part.
Motor: The stairlift needs to be moved up and down with a small but powerful motor. The main driver of the stairlift chair can be found at the base of the seat and controls the movement and speed of the lift.
Transmission: Like a vehicle, the motor is moving at a high speed to safely more the stair lift up and down the track. The transmission is used to reduce the speed of the lift while increasing the power.
Summary
When purchasing a stair lift, make sure you do your research and discuss your options with a physician. If you feel like you can install yourself take the right safety measures and ensure you have the needed tools. If you are unable to or would like to use professionals, look into what local professionals are available to help you with your installation.
What To Do Now
Now that you have a thorough summary of what stair lifts are, how they work, the best companies, manufacturers and vendors available – take the time to explore the best available option for you. You will see the tremendous benefits of having a stair lift and how it gives freedom and independence to your aging loved one.
To learn more and request a free quote, simply fill out the quick contact form below: